Pursuing blogging as a career choice does not just require hard work,
but also passion and consistency in producing blog outputs.
It should not just be a mere article, well-written, that captures the attention of readers. It should go beyond the idea of simply "writing" and should excellently produce articles depending on different areas of specialties. And blogging itself, especially if you are building your own name in the industry, requires progressive development and a matter of consideration. One of which is your website traffics and the maintenance of the number of people who view your site. Increasing the number to higher levels should be a priority as much as possible. That is why acquiring Search Engine Optimization (SEO) services is one of the best choices to boost your website traffics, and therefore boost your career and business as well.
As Michael Oyco answers additional interview questions, specifically about his website, let's know more about how Miss Web Development and our SEO services contributed and helped in improving his website traffic!
With Google Adsense, he earned $73 or Php 3,650 in one blogging day. It has been considered the highest monetization and traffic of his website. Until now, it is consistently growing. Bloggers and publishers gain profit from views and clicks on the advertisements shown and promoted on their blogs. Earnings depend on views and click separately, and how much companies and businesses are willing to pay them for promotion. SEO services from web experts contribute a lot to helping your rankings and web traffics improve. If you will analyze the screenshot below (looking at the rate per meter (RPM) and click-through rate (CTR), he was having at least 1,000 visits a day. So think about how much more can be earned for those websites with millions. That would be very interesting to imagine!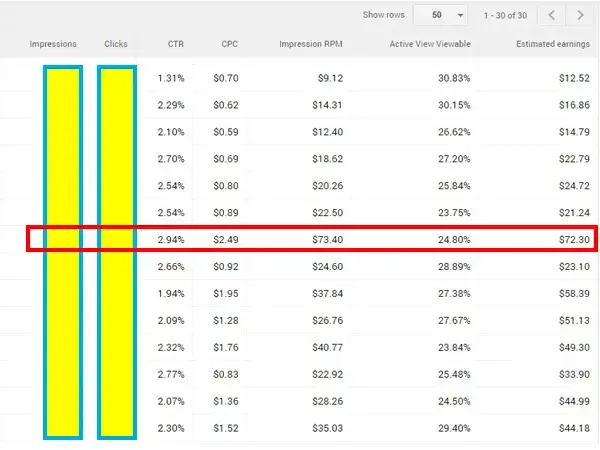 The following are the additional information about our second batch of interview:
Success for me is subjective because I have personally achieved my initial goal which is to monetize this blog, passing all the nitty and gritty details of  Google (All the rest for meare bonuses). Success for me is subjective because I have personally achieved my initial goal which is to monetize this blog, passing all the nitty and gritty details of  Google (All the rest for meare bonuses). But if we are talking about achievements, even from the simplest social share of the establishments I visit (especially from the non-sponsored ones) from being featured on other credible sites is so much appreciated.
A. Ezoic features (Featured "Access Now" publisher profile & Ezoic's Publisher of the year nominee 2021 – only 3 Filipino sites were considered)
B. Top 10 on 3 categories from Feedspot
C. Indirectly, it also led me to target monetizing my YouTube account and soon my other social media pages. The success of my blog was the gateway for me to achieve more and greater things (Thank you, Lord).
SEO services helped his website reach big and far. To put it in a simpler context, SEO services help a website by optimizing its visibility online. If more people see and interact with your websites and content, then your website traffic increases. It will help your products, services, and businesses grow and reach a wider range of people. SEO services also help your website climbs up to higher ranks. And once it happened, your sites and businesses could be easily known by media users and people online.
Hence, one of the factors that can make your blogging career success is to hire a web expert to help it grow. You can save time, money, and effort if you pair up your businesses with an expert to do the job and the SEO services for you. If you are already exhausted by your unending tasks and you do not have any vacant time to do the manual work, hiring a web expert who can provide SEO services excellently is the best choice!
Miss Webpreneur Development is just here to serve and help you with your needs. We can give you the best, credible, and trusted Search Engine Optimization (SEO) web services. All you have to do is click the links below and learn more.
For more information about Miss Web SEO services, book a call with me here.